Top 5 Unveiled
My Favorite Electric Guitars For Kids Revealed – Cool Guitars for Even Cooler Kids!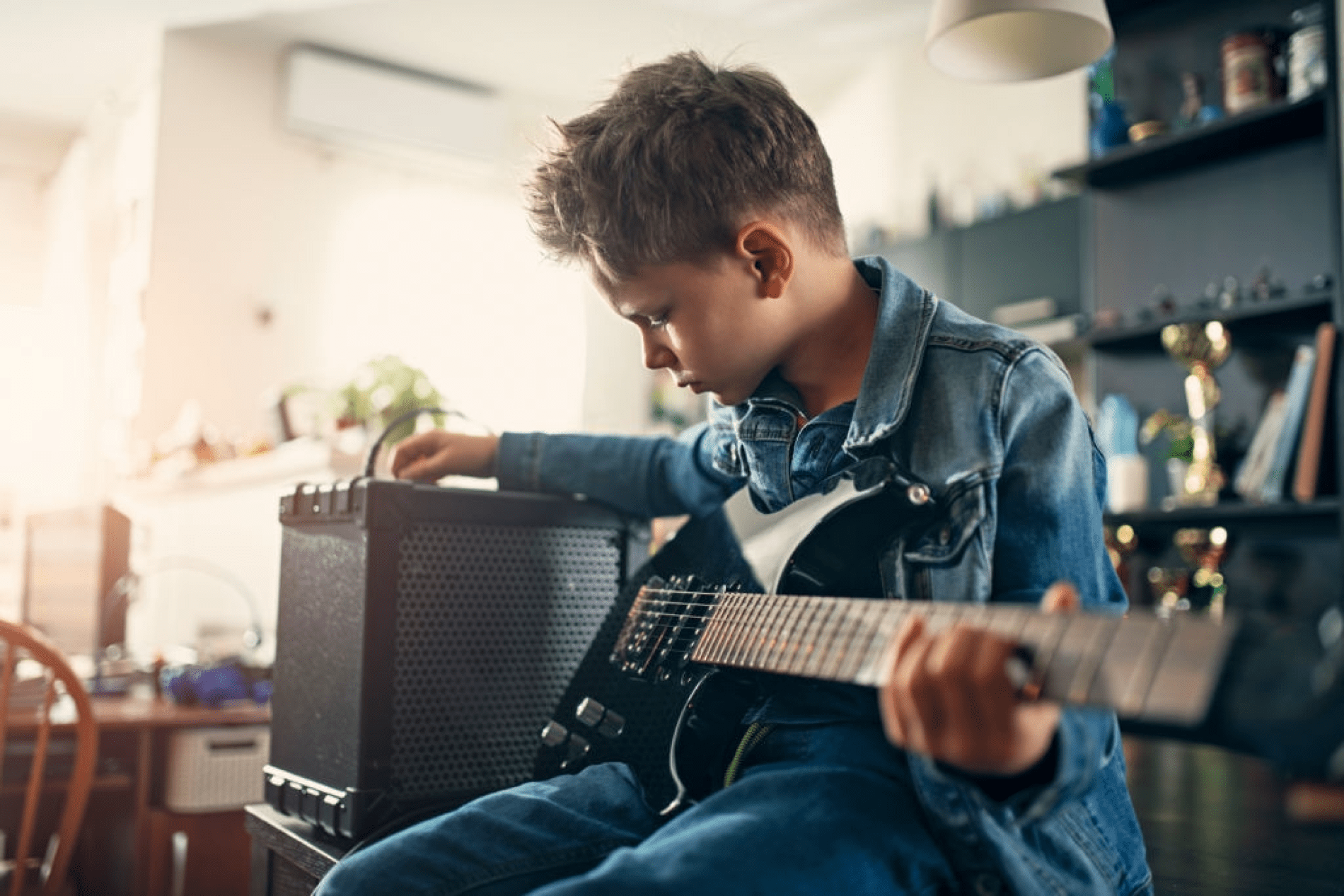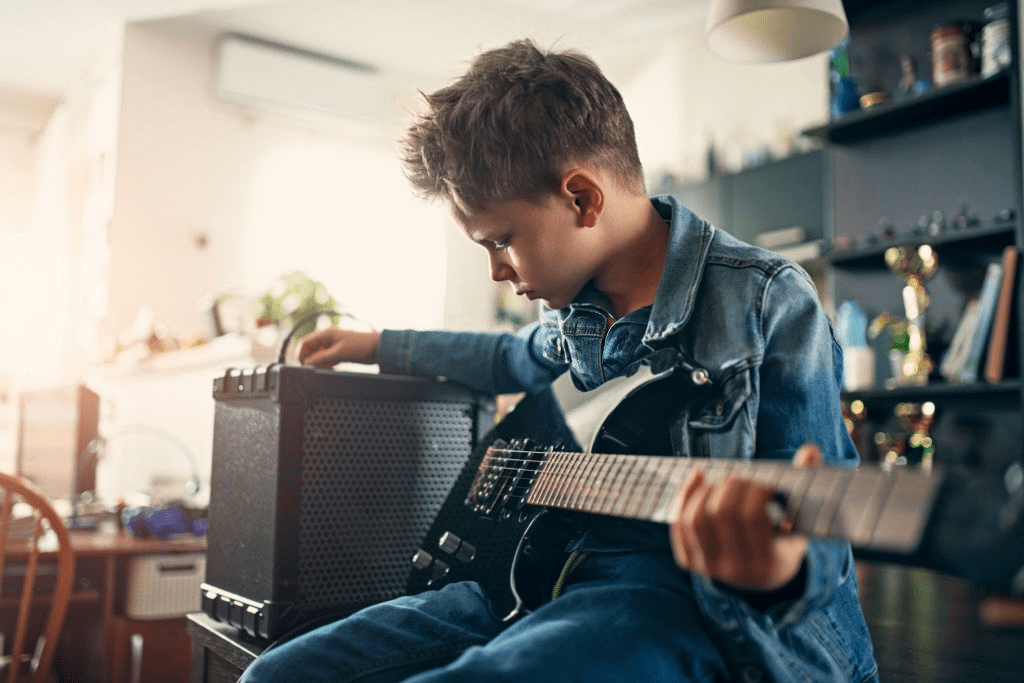 There are numerous benefits music can bring to kids. According to a study by Martin Guhn, kids achieve higher grades in school when they play and enjoy musical instruments, than their non-musical peers.
It's recommended that children expressing an interest in learning an instrument, should, if at all possible, be encouraged, and electric guitars are the most popular amongst youngsters. Easy to learn the basics, play along to their favorite tracks, and feel cool whilst doing so, it's plain to see why kids love them so much.
Guitars vary greatly in style, size, and type, and we've taken all of these factors into consideration when making our recommendations.
---
Unleash the inner rockstar of your kid with the Fender Squier 3/4 Size Kids Mini Strat Electric Guitar Learn-to-Play Bundle. Let them learn to love music and playing instruments which will develop their creativity and even their confidence and social skills once they play in front of an audience. This complete set is the perfect learning kit that contains a mini guitar that fits perfectly for the small hands of kids. It also contains an amplifier, tuner, picks, straps, and even online lessons where your kid could learn and practice their new instrument. This is perfect for 6-12 years old.
1 new from $199.99
Free shipping
as of August 23, 2020 2:07 am
---
Aspiring musicians should be nurtured and trained as young as they are. The Yamaha Gigmaker EG Electric Guitar Pack is the perfect gift for young budding musicians who want to explore their love for music. Encourage them to train, practice, and keep building their skills with this guitar pack. It comes with straps, strings, picks, a tuner, a 15-watt Yamaha amplifier, and a quickstart DVD. It is a full-sized guitar but not too big for teens and it is also lightweight. This set is perfect for beginners who want to try out their luck in music-making and performing.
---
The Fender Squier Affinity Stratocaster HSS – Montego Black Metallic Bundle is the best value for your money. If you are looking for a complete set that your kids can practice with no fuss then this is the perfect guitar set to buy. It comes with a Tuner, Strap, Picks, Gig Bag, and Austin Bazaar Instructional DVD. It delivers a solid sound which both beginners and intermediate players will appreciate. It has a C-shaped profile and maple neck and Indian Laurel fingerboard which makes playing enjoyable. Your kid will feel cool like a rockstar with its platinum pickguard and eye-catching design.
1 new from $269.99
Free shipping
as of August 23, 2020 2:07 am
---
You do not have to break the bank to get the best guitar for your kid. Help them chase their musical dreams and nurture their talent and skills by buying them a guitar that allows them to explore their talents in playing the instrument. The ESP LTD EC-257 7-String Electric Guitar in Black Satin is a sleek and cool guitar that has a great range but is not expensive. It is affordable yet high quality. It has a beautiful mahogany body and a three-piece neck made also of mahogany. What is great about this is it features an excellent pick-up.
3 new from $479.00
Free shipping
as of August 23, 2020 2:07 am
---
If you are a beginner that does not know much about instruments and guitars then you need a beginner-friendly guitar that lets you learn more about playing than fussing around the instrument. This classic provides you the ease of use and a very familiar hold and sound that you will comfortable exploring and playing with. The best thing for a beginner to do is to keep on watching guitar lessons and use a guitar that they are comfortable with so they can explore and learn more. The Epiphone Les Paul Studio LT Electric Guitar in Ebony finish is a Classic Les Paul guitar with Carved Top that is absolutely gorgeous. Both the body and neck are made of mahogany and it has a Tapered neck joint that provides easy upper fret access.
---
FAQs
How To Choose The Best Electric Guitar for Kids?
Having a kid who loves to rock is great. Whether they are training to become the next guitar legend, or if they just simply enjoy the music, it's important for parents to choose the right guitar.
The best kid's electric guitar should motivate them to practice and perfect their skills. That said, their guitars should not just sound great, but it should also feel great.
Set them in the right direction by picking a guitar they love the look of – what may be beautiful to you might not be to their taste.
Lastly, it would be great if the guitar of their choice came with all the cool accessories.
How About Amps?
Some of the guitars listed here already have pre-bundled amplifiers included. However, if you opt for an electric guitar only, and want to buy a separate amplifier, we'd recommend Fender Champion 20 Amplifier, which is a really good practice amp for beginners.
Final Words
Online lessons for electric guitars can be found in many places but the real thing to ponder upon is finding the best electric guitar for kids. We think the major problem of finding the best electric guitar for your kid has been solved with the help of this article.
---
For more gift ideas for children, check out the posts below